These are the books that feature in our 2019 Best Books for summer catalogue - read the catalogue here or pick up a printed copy at the shop.
$17.99
NZD
Category: Humour | Series: Diary of a Wimpy Kid
An unexpected inheritance gives the Heffley family a chance to make major improvements to their home. But they soon find that construction isn't all it's cracked up to be. When things get rough, will the Heffleys be able to stay ... or will they be forced to move?  
$40.00
NZD
Category: NZ Natural History
A spectacular illustrated picture book exploring New Zealand's unique landscapes and its incredible wildlife by the award-winning author of Aotearoa: The New Zealand Story. Long before waka touched Aotearoa's shores, the land of the long white cloud was home to an array of creatures uniquely adapted to its environments and protected by its isolation. Encounter New Zealand's incredible wildlife in this spectacular visual exploration. Journey through ocean, sky and land to meet a marvellous range of organisms. Discover fascinating facts, and learn how we influence the survival of our living treasures. In this magnificent companion volume to Aotearoa: The New Zealand Story, Gavin Bishop weaves a compelling visual narrative of our land, our people and our wildlife - past, present and future. ...Show more
$74.99
NZD
Category: Fantasy, Magic and Science Fiction | Series: Harry Potter
An extraordinary creative achievement by two extraordinary talents, Jim Kay's inspired reimagining of J.K. Rowling's classic series has captured a devoted following worldwide. This stunning new fully illustrated edition of Harry Potter and the Goblet of Fire brings more breathtaking scenes and unforgett able characters to life - including Cedric Diggory, Fleur Delacour and Mad-Eye Moody. With paint, pencil and pixels, Kay conjures the wizarding world as we have never seen it before. Fizzing with magic and brimming with humour, this full-colour edition will captivate fans and new readers alike as Harry, now in his fourth year at Hogwarts School of Witchcraft and Wizardry, finds himself competing in the legendary Triwizard Tournament and facing death-defying tasks, dragons and Dark wizards ...   ...Show more
$24.99
NZD
Category: NZ Biography
An inspirational graphic memoir of growing up Pasifika in New Zealand, written and illustrated by our fast-talking PI Poet Laureate, Selina Tusitala Marsh. At school, Selina is teased for her big, frizzy hair. Kids call her 'mophead'. She ties her hair up this way and that way and tries to fit in. Unti l one day – Sam Hunt plays a role – Selina gives up the game. She decides to let her hair out, to embrace her difference, to be WILD! Selina takes us through special moments in her extraordinary life. She becomes one of the first Pasifika women to hold a PhD. She reads for the Queen of England and Samoan royalty. She meets Barack Obama. And then she is named the New Zealand Poet Laureate. She picks up her special tokotoko, and notices something. It has wild hair coming out the end. It looks like a mop. A kid on the Waiheke ferry teases her about it. So she tells him a story . . . This is an inspirational graphic memoir, full of wry humour, that will appeal to young readers and adults alike. Illustrated with wit and verve by the author – NZ's bestselling Poet Laureate – Mophead tells the true story of a New Zealand woman realising how her difference can make a difference. ...Show more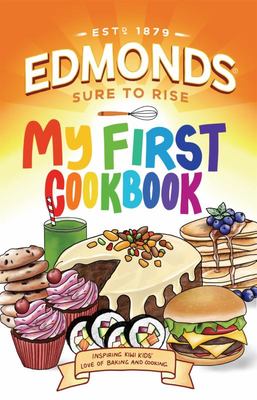 $24.99
NZD
Category: Cooking and Gardening
Become the champion-pikelet-maker, an expert-afghan-baker or an award-winning-pizza-creator. With the iconic illustrated step-by-step layout of the original Edmonds Junior Cookbook, you'll find it super easy to learn to cook these classic New Zealand recipes. From breakfast through to dessert and all t he meals and snacks in between, this collection of over 90 recipes will be the beginning of a life long love of baking and cooking. ...Show more
$37.99
NZD
Category: Pop Up, Novelty & Touch and Feel
A large-format lift-the-flaps visit to the haunted house of Madame M - enjoy the thrill of uncovering what lurks in the wardrobe, behind the door, tucked under the furniture… Are you lost? Come in. You're in luck--there's no one here just now. Shhh... Be as quiet as you can, and very, very careful... In The House of Madame M, we explore a strange house: hallway, living room, kitchen, bathroom and bedroom. Each room is full of surprises to make even the bravest shiver. Are we in the house of an ogre? A witch? Something else altogether? This visit to Madame M's brings the thrill of finding what lurks in the wardrobe, behind the door, tucked under the furniture. Full of humor and detail, it will mesmerize readers of all ages. ...Show more
$17.99
NZD
Category: Middle Fiction 8-12-year-olds | Series: Buttons McGinty
Comedian Rhys Darby delivers more words AND more pictures in his second hilarious book for kids! Buttons McGinty is back and this time he's travelling through space and time...in search of his parents (missing, presumed missing). Join Buttons and his friends as they enter a universe unlike any youve s een before. Once again, Buttons is using Morse code to help solve the mystery of his missing parents. A laugh-out-loud mystery-comedy series that will blow your mind and bring on an attack of the bellyaching funnies! ...Show more
$18.99
NZD
Category: Teen Fiction | Series: Arc of a Scythe
The explosive conclusion to the New York Times bestselling Arc of a Scythe series. It's been three years since Rowan and Citra disappeared; since Scythe Goddard came into power; since the Thunderhead closed itself off to everyone but Grayson Tolliver. In this pulse-pounding finale to Neal Shusterman's i nternationally bestselling trilogy, constitutions are tested and old friends are brought back from the dead. Of Scythe: "Pretty much a perfect teen adventure novel [...] Over the years, I've heard many books touted as the successor to Hunger Games, but Scythe is the first one that I would really, truly stand behind, as it offers teens a complementary reading experience to that series rather than a duplicate one. Like Hunger Games, Scythe invites readers to both turn pages quickly but also furrow their brows over the ethical questions it asks [...] It asks enough difficult questions to stick in the mind, but it never asks them at the expense of pacing or story." Maggie Stiefvater on Scythe. "No one does doom like Neal Shusterman – the breathtakingly jagged brink of apocalypse is only overshadowed by the sense that his dystopias lie just below the surface of readers' fragile reality." Kirkus Reviews ...Show more
$18.99
NZD
Category: Junior Fiction 5-9-year-olds | Series: Dog Man
Howl with laughter with Dog Man, the internationally bestselling series from Dav Pilkey, the creator of Captain Underpants! Petey the Cat is out of jail, and he has a brand-new lease on life. While Petey's reevaluated what matters most, Li'l Petey is struggling to find the good in the world. Can Petey a nd Dog Man stop fighting like cats and dogs long enough to put their paws together and work as a team? They need each other now more than ever -- Li'l Petey (and the world) is counting on them! Dav Pilkey's wildly popular Dog Man series appeals to readers of all ages and explores universally positive themes, including empathy, kindness, persistence, and the importance of being true to one's self.   ...Show more
$21.99
NZD
Category: NZ Picture Books
Wonky Donkey has a daughter with the same rambunctious spirit as her dad. Kids, parents and their loved ones will enjoy the hilarity and cumulative read-aloud fun. This cute little pint-sized donkey has beautiful long eyelashes, loves to listen to music, paints her hooves bright pink, sometimes has to g o pee-pee, loves to play piano, has a very cool spiky haircut . . . and sometimes smells a bit bad (like her Dad!). She's a blinky, funky, pinky . . . you know how it goes . . . dinky donkey! Wonky and Dinky become the perfect duo to get even more young children reading (and hopefully some more grandmothers, too)! ...Show more
$19.99
NZD
Category: Graphic Books | Series: Smile
Raina wakes up one night with a terrible upset stomach. Her mom has one, too, so it's probably just a bug. Raina eventually returns to school, where she's dealing with the usual highs and lows: friends, not-friends, and classmates who think the school year is just one long gross-out session. It soon bec omes clear that Raina's tummy trouble isn't going away... and it coincides with her worries about food, school, and changing friendships. What's going on? Raina Telgemeier once again brings us a thoughtful, charming, and funny true story about growing up and gathering the courage to face and conquer your fears. ...Show more
$34.99
NZD
Category: Fantasy, Magic and Science Fiction
Lone Annie sees dragons in your future... She sees giants. She sees fire and water. She sees death. Finn's life in the village of Wichant is hard. Only his drawings of the wild coastline, with its dragon-shaped clouds and headlands that look like giants, make him happy. Then the strange housekeeper from a mysterious clifftop mansion sees his talent and buys him for a handful of gold and then reveals to him seven extraordinary paintings. Finn thinks the paintings must be pure fantasy-such amazing scenes and creatures can't be real! He's wrong. Soon he is going to slip through the veil between worlds and plunge into the wonders and perils of The Glimme. ...Show more