Helen is the co-owner of the Dorothy Butler Children's Bookshop, along with her older sister Mary. She has had various jobs including, being a photographer for a newspaper and teaching English as a second language. She can often be found in the back garden throwing balls at her sporty son or watching her acrobatic daughter perform circus tricks. One of her favourite books is The 10pm Question by Kate De Goldi.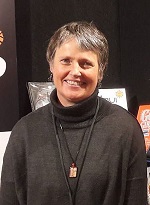 Mary is the co-owner of the Bookshop. She always managed to avoid doing dishes as a child by hiding away with a book - according to her sisters! In a previous life she was a chemical engineer so being a bookshop owner has been a big change. She loves adventure stories the most. Swallows and Amazons was a favourite when she was younger and now it's anything by Katherine Rundell or Kate diCamillo.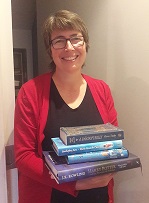 Kathleen is the grandmother-on-deck, spends half her pay on books for her grandchildren and is prone to exaggeration. She has spent half her working life in the banking industry and the other half in some form of education. She considers life incomplete without a knitting or crochet project on the go, collects owls, enjoys relaxed walking, and dreams of hitting the open road every time she gets behind the wheel in her little red Cube.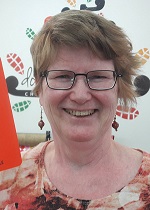 Hi, I'm Miriam. I'm a solo mum to three little crazies who take up much of my time (when I'm not working at the bookshop). If you catch me reading, it's almost guaranteed to be fantasy, sci-fi, mystery or a combo of the three (the same goes for my screen time). I also have a great love for board games and singing along to music (not always well, I'm sure).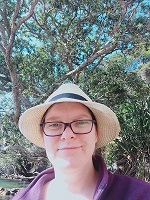 Hey! I'm Anastasia and this is my puppy Tino. I am a university student doing a BA in Criminology and Psychology and Tino is doing a BA majoring in Naps. One of my favorite books is Esio Trot by Roald Dahl because its full of turtles, love and grand schemes. When I'm not reading my favorite book I like to take Tino on walks, watch Disney films and indulge in a good murder mystery. There is nothing better than curling up with a good book.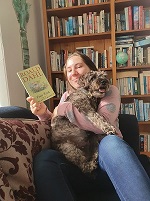 Hi. I'm Misha. I'm a Dungeons and Dragons enthusiast currently studying Chemistry at University and an advocate for reading children's books even if you're supposedly too old for them. Since starting working here I've rediscovered my love for adventure and fantasy novels, and have discovered a lot of new favourites as they've been released. One of the best parts of working here is sharing my opinions on books, so if you need any recommendations please don't hesitate to ask.